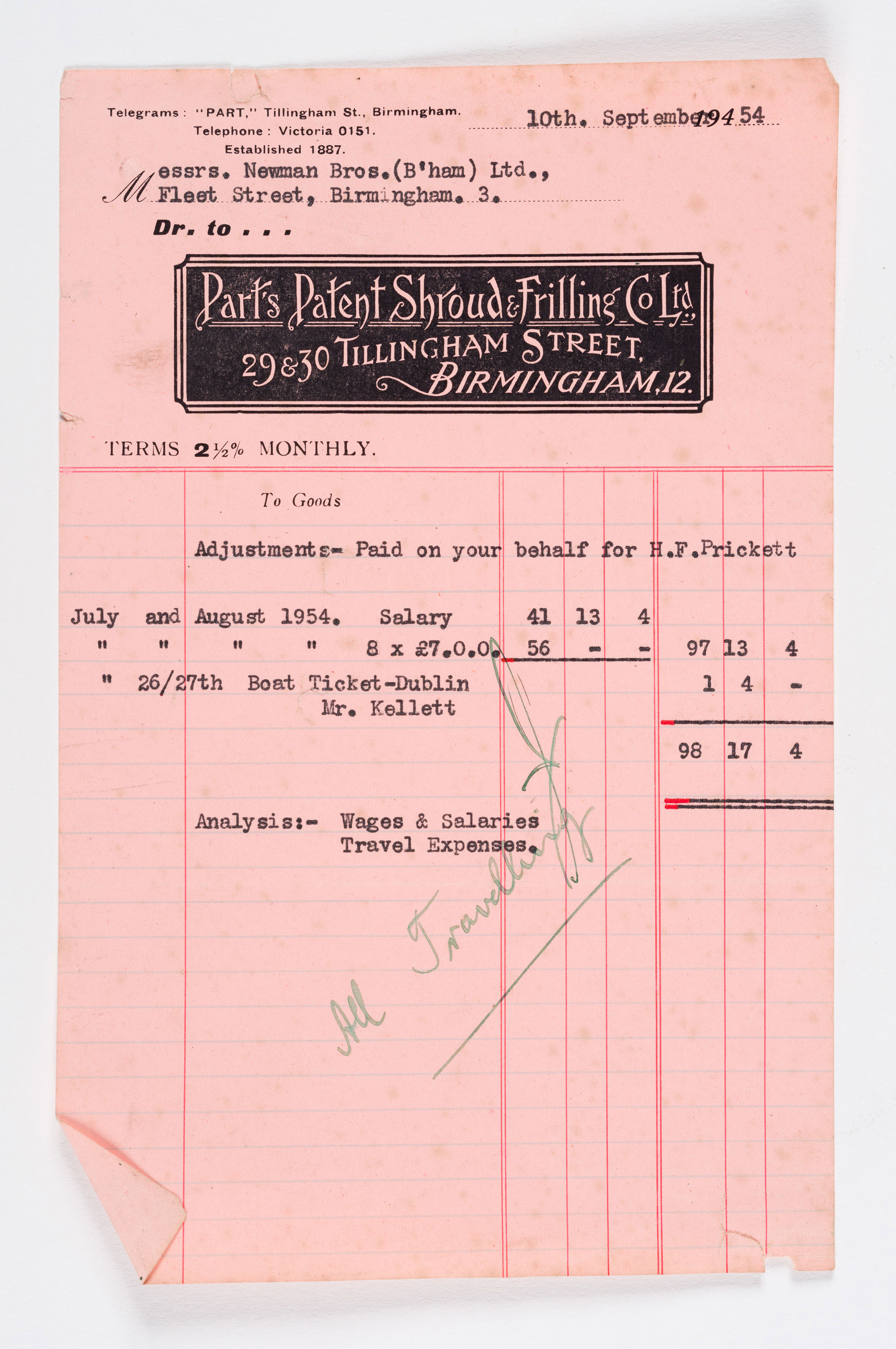 This object is in the following Themes:
Date: 10th September 1954
Material: Paper
---
History:
This is an invoice from 'Parts Patent Shroud and Frilling Company' to Newman Brothers Ltd for wages and travel expenses. Newman Brothers bought shrouds and frillings from the company, but it would appear that they also worked closely in partnership with each other. After all, the invoice is for wages paid on Newman Brothers' behalf, as well as travelling expenses for Mr Kellett, who was a director and commercial salesman at Newman Brothers.
We also know that John Part became a shareholder at Newman Brothers on Horace Newman's death in 1952, and he was also chairman of Newman Brothers in 1954. Seeing as Newman Brothers closed down their Shroud Room in 1941, it would appear that they teamed up with 'Parts Patent Shroud and Frilling Company', working in collaboration with them to continue to supply 'soft goods', albeit not made at Newman Brothers, but presumably packaged and sold as their goods.
John Part was a managing director at 'Parts Patent Shroud and Frilling Company', based on Tilligham Street in Sparkbrook, Birmingham. The other three directors were his two sisters and his mother. Newman Brothers bought shrouds, frillings and other materials from them prior to the John Part founding John Part and Co. Ltd, based at Newman Brothers Ltd.
By 1957 Parts Patent Shroud and Frilling Company had a deficit of £19,214 and went into voluntary liquidation. John Part formed a new company called 'John Part & Co. Ltd', funeral furnishers who were based at Newman Brothers between 1954 and 1956. It appears that they rented a workshop at the manufactory during this period and specialised in selling coffins. This may have been an attempt by Newman Brothers to expand their product range, working directly with another company who specialised in products they themselves didn't manufacture. John Part & Co. Ltd ceased trading in 1956.
Between 1947 and 1957, John Part received a total of £24,947 in salary, directors' fees and commission.
This is what we believe to be the case at present, but we welcome any additional information to help us update our records.