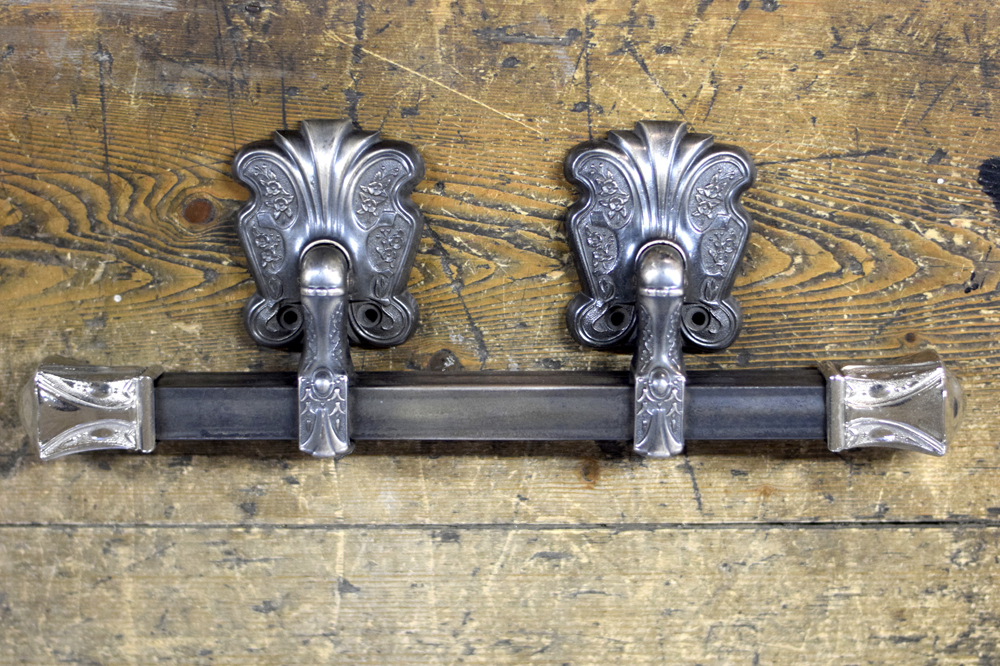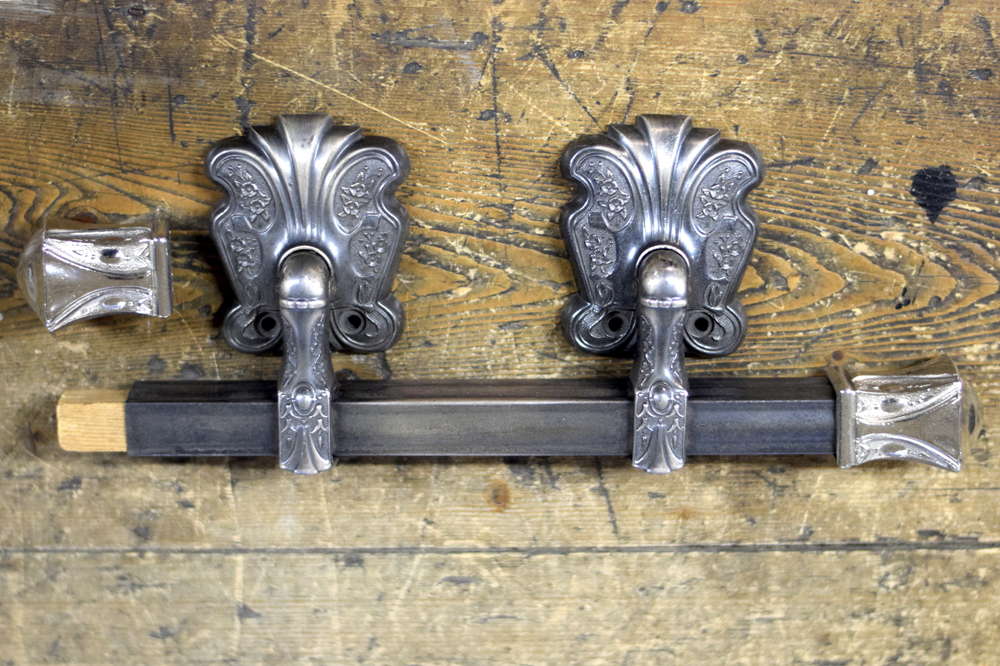 Date: Circa 196os
Material: Zinc with oxi-silver finish
---
History:
Caskets, as opposed to coffins, are four-sided rectangular boxes, often with  fancy raised lids, which are hinged. The handles on a casket consist of two long bars, running the length of the casket, and attached to it with decorative brackets. Or, in this case, casket-bar handles are used. Usually three, sometimes four, would be placed on either side of the coffin.
The bar section of the handle was reinforced with wood, which saved on metal, but also ensured that handles were strong enough to allow the casket to be manoeuvred. Sheet metal was then shaped and wrapped around the wooden bar. The 'rose' sections of the handle and the ornamental 'ends' were die cast, and it was the roses that would be directly attached to the casket or coffin.
In the Newman Brothers' 1960s' catalogue it is advertised as die cast casket and semi-casket furniture.
The Oxi-Silver finish
Newman Brothers were known for their variety of finishes. The oxi-silver finish that we see here was achieved by first nickel-plating the rose ornament.
To produce the black-lacquered finish, platinum was dissolved into nitro-hydrochloric acid, which was then allowed to crystalise.  This was then dissolved in spirit of wine, ether, or water. A few drops of this solution are then mixed with any of the bronzing powders, such as crocus, sienna or rouge.
The ornament was then gently heated to allow smooth application of the lacquer. If any areas needed to be lightened, this was done by applying a little liquid ammonia to them with a piece of chamois leather. The ornament is now completely black. In order to achieve the oxi-silver finish, the rose ornament was then polished to remove the black lacquer to reveal silvered parts as seen here.
This item is in the following Themes: