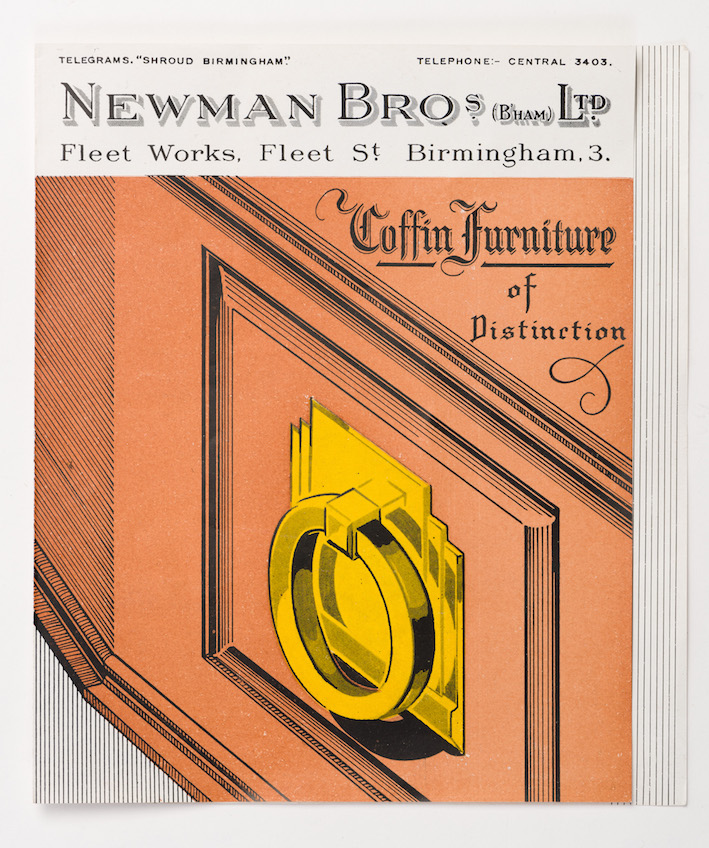 ---
Production and History:
This was the first marketing leaflet Newman Brothers produced after the Second World War. They acknowledge what a struggle the period was for them because of the shortage of materials.  It's significant that their handle of choice on the leaflet is made from brass, the highest-quality metal used to produce coffin fittings. After nearly closing during the war, this was perhaps a symbolic message to their customers that Newman Brothers' name was still associated with quality.
In the post-war years, society's attitudes to death and funerals changed profoundly. New housing was a higher priority than cemeteries, and cremation slowly began to gain in popularity. The number of coffin furniture manufacturers in Birmingham shrank from twelve in 1944 to just three in 1967, with no new companies entering the market after 1949.
Newman Brothers struggled to recover from the Second World War. George Newman had died in 1944 and his brother Horace was the last member of the family to be directly involved in running the business, up until his own death in 1952. In 1945, the company had been trading at a loss and the value of the shares was reduced. However, after the war there was an injection of young blood, which helped to revitalise the company. Click here to read more about the new generation of Newman Brothers' workers.