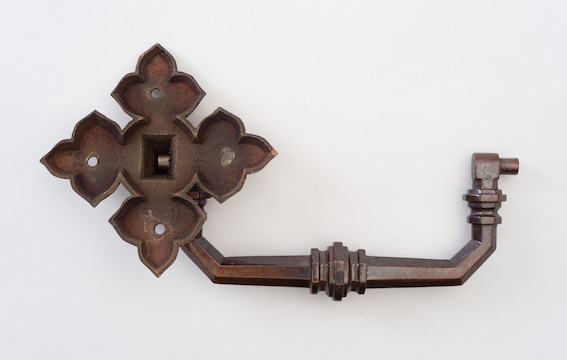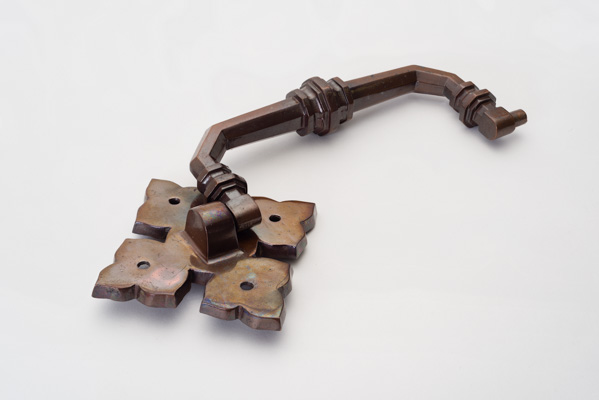 This item is in the following Themes:
Date: Circa 1960s
Material: Brass with brown bronze finish
---
Production:
This handle is sand cast and its design was in production at Newman Brothers between the 1890s and 1960s. Its reference in the Newman Brothers' trade catalogue is Gothic N121. Once the sand casting facilities had been removed from the manufactory in the early 1960s, Newman Brothers continued to have the handle produced off-site at other specialist companies. This included John Buckley Ltd, Dudley, specialists in hot stamping.
By the mid 1960s, sand casting had become less efficient and more time consuming. As a result, Newman Brothers commissioned outside die-casting companies and hot stamping specialists to produce a range of their products for them.
Newman Brothers were known for their variety of finishes, including their bronze lacquers. The Brown Bronze finish that we see here was achieved by mixing rouge with a small amount of chloride of platinum and water. This formed a chocolate brown solution and water was then added to make a paste. Bronze finishes were applied with a soft brush and allowed to dry. A harder brush was then applied to the object until the finish had become appropriately brightened.
History
The Gothic N121 handle was a favourite of the royal undertakers, J.H. Kenyon who used the handle on royal coffins, but often in its highly burnished brass finish. Historically this was one of the more expensive handles, but not the most expensive handle Newman Brothers offered. However, by the 1950s the company had reduced their stock from over 200 products to around 80, and the Gothic N121 handle had by this point become the most expensive handle Newman Brothers sold.