Production/Material:
Die cast nickel-plated backplate and handle on cardboard backing.
Both the handle and backplate are die cast. Although they are Newman Brother's designs, all of their die-cast goods were manufactured off site, as they didn't have die-casting facilities. They traditionally used sand casting to manufacture their products between 1894 and the mid 1960s. By the mid 1960s, this had become less efficient and more time consuming. As a result, they commissioned outside die-casting companies to produce a range of their products for them.
History:
The job of the travelling salesmen involved keeping existing customers happy and, of course, finding new business. The key tool of the trade was the travelling salesmen's bag, full of catalogues and samples. We are fortunate that four of these bags were left at the factory, still with their contents inside.  The handles and other fittings are proudly mounted on presentation card, while the fabric samples of funerary gowns and coffin linings are displayed together in a similar manner to a carpet sample book. Before making a visit, cards would be posted out to prospective clients, advising that a travelling salesman would be visiting in the next few days.
The travelling salesmen were amongst the most important staff employed by Newman Brothers, and many went on to be directors. Charm and good looks were important in this role, and both Arthur Allen and Dai Davies had both.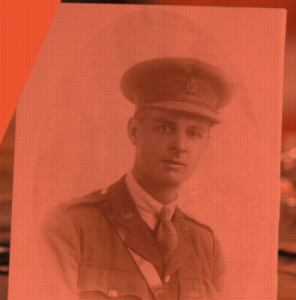 Arthur Allen worked for Newman Brothers between 1903 and 1939. His son recalls, "in 1903 he set off for Newman Brothers in a frock coat, bowler hat and rolled-up umbrella. And he said "'I feel like a real commercial traveller'".
Between 1915 to 1919 he served in the Army Service Corps, as a driver, making use of the skills he had gained as a travelling salesman for Newman Brothers. When he returned to work in 1919, he spent a lot of his time in Ireland selling goods all over the country. He travelled on his Triumph motorcycle, which had a wickerwork sidecar, into which he put his sample bags. It was while he was in Ireland, around 1921 to 1922 during 'The Troubles', that he had a frightening experience with the IRA that went down in family history. His son, Anthony, recalls
'He was in Dublin during The Troubles, staying at St Andrews Hotel, in bed, asleep, and he heard the door open and he saw somebody with a candle, and the shadow of a revolver, and they said, "Get up! You're an English spy!" He kept saying, "I am a commercial traveller…get my sample bags." They said "it's ammunition" and brought it in, but the first bag that was opened had a great crucifix on top and that did it.'
The IRA men, being Catholics, let him go after that, and it was said in the family that the crucifix had saved his life.
Newman Brothers used their travelling salesmen to continue to sell to Irish funeral directors and wholesale manufacturers throughout the 20th century. With the Troubles growing more intense throughout the 1960s and 1970s, Newmans began to use 'middle-men' to sell their goods in Northern Ireland. One such company, who also had shares in Newman Brothers was the Doggart family, who bought products from Newmans and then sold them on. This was a shrewd decision at a time when business could have been affected for them as a British company.