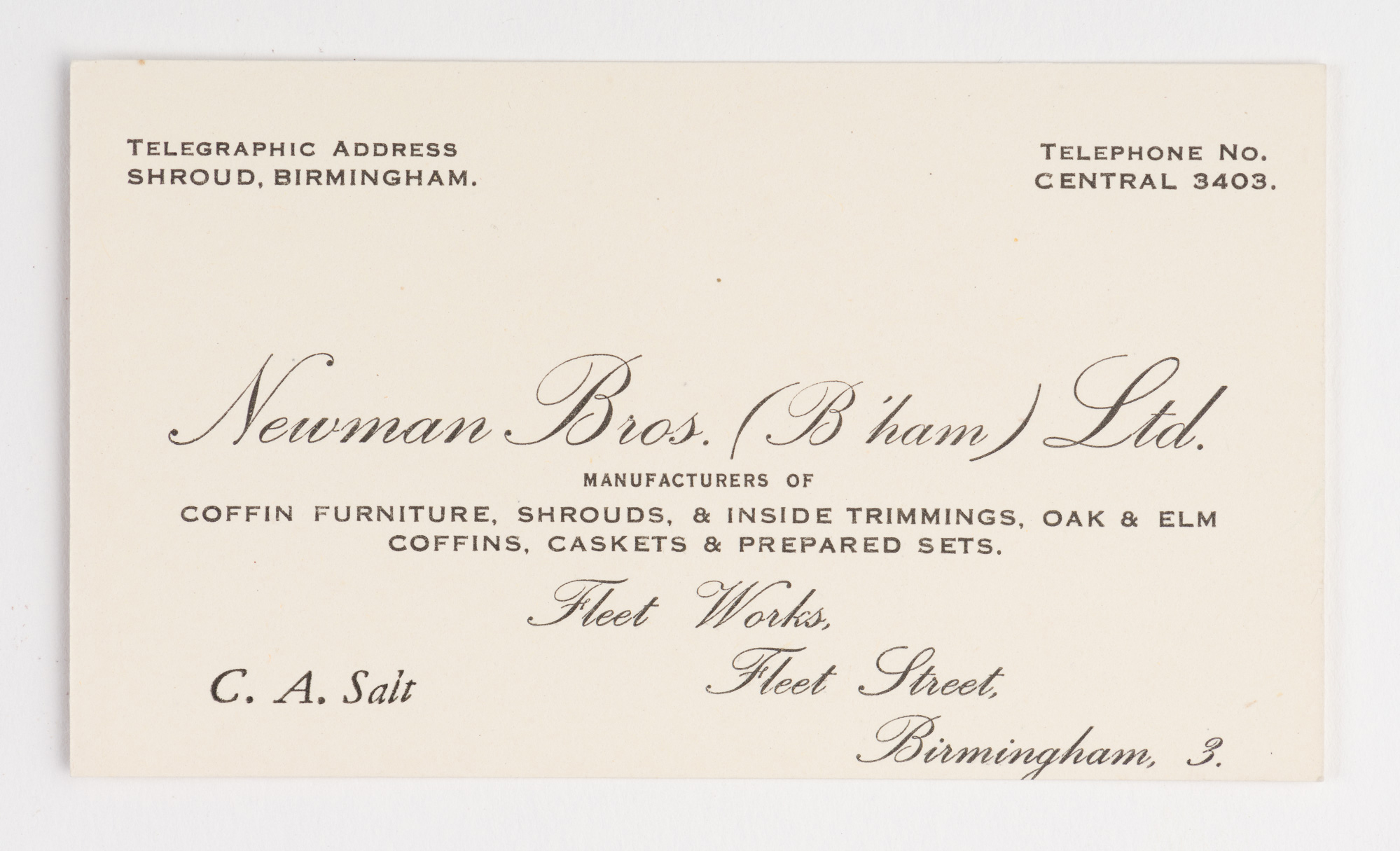 Date: Circa 1950s
Material: paper
---
History:
This business card belonged to Cyril Salt, who joined Newman Brothers after the Second World War. We know that he moved from another coffin fittings manufacturer that had shut down.
In 1976, Joyce Green seized the opportunity to become the managing director of Newman Brothers, buying up of the majority of the company shares with her old colleagues, the travelling salesmen, Cyril Salt and Dai Davies. Not everybody at the factory was pleased however. As Joyce recalls:
" 'Oh a woman, we don't want a woman to run, you know, to run Newman Brothers' and I said. 'Well that's the way it is'."
The market for Newman Brothers' products  after 1976 continued to shrink and cremation continued to increase. As well as this, there was a failure to modernise. They relied mainly on their reputation and existing customers. The workforce was getting older and as salesmen such as Cyril Salt and Dai Davies retired, they were not replaced.
While it is easy to criticise Newman Brothers for failing to change with the times, it is perhaps more correct to see this as a refusal by Joyce Green and her colleagues to sacrifice reputation for profit. As the leading funerary historian, Julian Litten says:
"Newmans were not willing to go down that path. They knew they still had a discerning clientele, albeit dwindling, but nevertheless they had a reputation, and that reputation had to be maintained, even if it meant their death. And so it was, the king of the suppliers became subject to death itself. Thus the royal supplier went the way of us all."   
This item is in the following Themes: